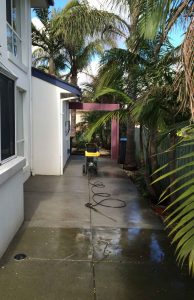 An effective way to bring your surfaces to life
High-pressure cleaning is a great way to rejuvenate your hard surfaces. It removes built-up mould, grime and mildew, leaving the surface with a 'brand new' appearance.
Mountain View Window Cleaning has the right equipment and expertise to revive surfaces at your home or businesses, bringing them back to life.
Pressure cleaning the hard surfaces around your home is a cost-effective way to increase the value of your property when selling your home!
We can pressure clean:
All concrete surfaces including driveways and pathways
All hard surface statues and outdoor ornaments
Brickwork
Concrete retaining walls
Outdoor decking & patios
Spouting
Exterior house walls
Call Mountain View Window Cleaning today on 1300 978 400 to arrange a free quote, or use the enquiry form for your convenience.